Our Visit to the City of Love
I haven't shared much about my love life here. I've meant to.
I've written and edited blogs about it and never shared it.
For those who don't know, I've been with my boyfriend for the past two and a half years. Two years of our relationship has been long distance. Before we were in a relationship he applied to graduate school in Switzerland.
Eventually we got into a relationship, he left the states and I remained home in Louisiana. It has been tough as you would expect, loving someone who is across the world (…literally) is tough! However, today he will be back for now.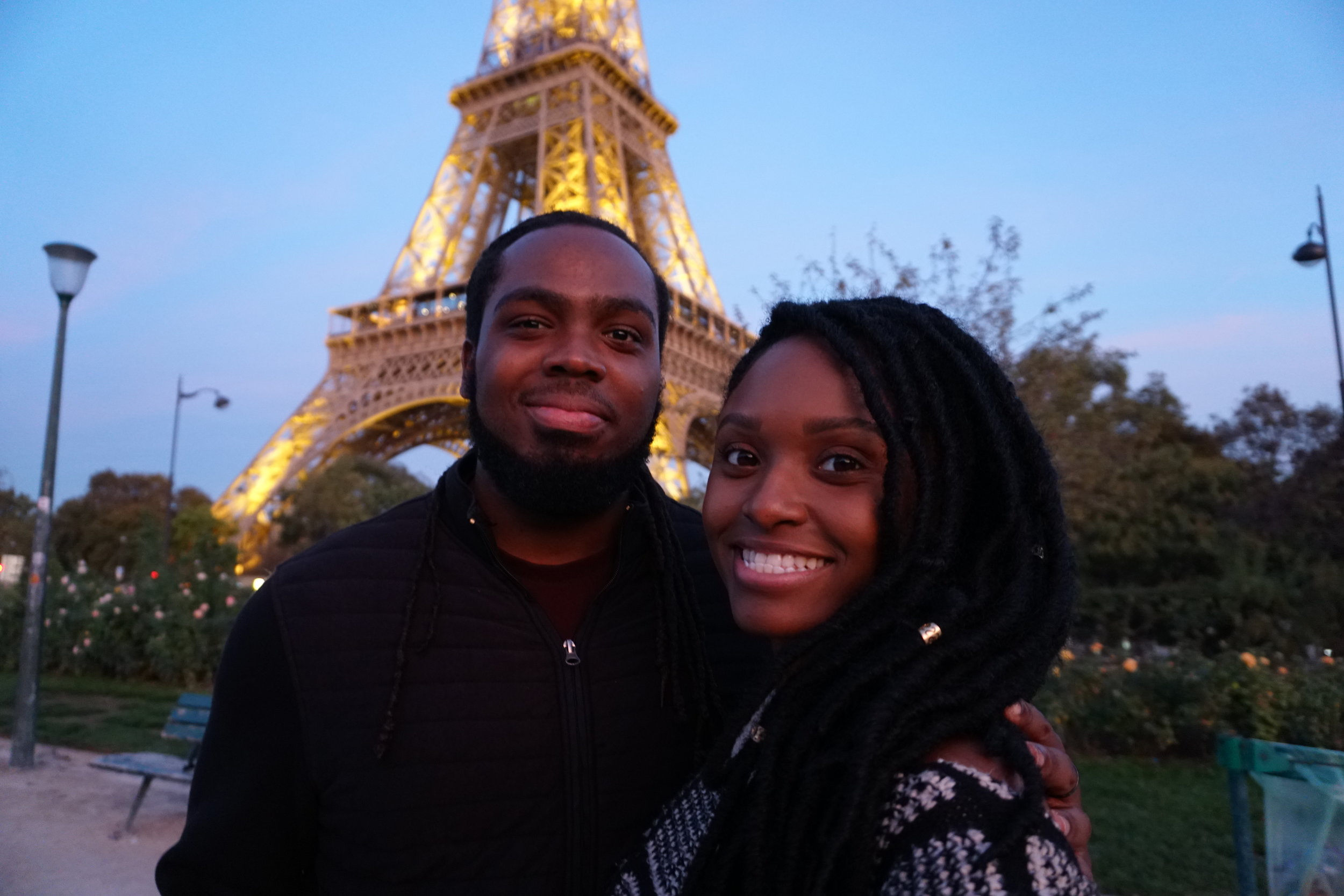 I remembered the first time I came to Paris.
I had said to myself that I wanted to come back with a lover…so I did just that!
Early October I had a spur of the moment thought.
I brought up the idea of meeting up in Paris before he came home.
I remember being nervous seeing him after so long. It had been nine months this time since we had last seen each other. That is the longest that we have gone without seeing each other…hopefully we won't beat that record.
Our trip to Paris was nearly perfect. It was short and sweet and just enough time to catch up, we had Paris to live out for three days. We rented a super cute attic apartment that was near the Arc De Triomphe. The apartment was on the seventh floor and had rooftop views from the windows.
Day 1
I will admit. Neither of us had a lot of free time leading up to the trip so most of our planning took place on the first night of the trip…oops. But we were just living in the moment and happy to see each other so it wasn't a big deal.
On our first day we settled in to our apartment, took a walk to visit the Arc De Triomphe as the sun set and searched for food.
We smelled delicious burgers before we could see the restaurant. We were sold!
We ended up there and we were so happy with our choice. It was called Baagaa and boy was it delicious. I highly recommend visiting.
Day 2
On day two we decided to visit some places on our quickly curated list that I created on Google Maps. You can view the spots we chose to visit here. We went to the louvre, which was free since it was the first Sunday of the Month. Apparently, several museums let visitors in free on that first Sunday.
We then we walked through the Garden De Tuileries, found Notre Dam and ate at a Thai Food spot that I had eaten at the first time I visited the city. It was the first time I had Thai and the place where my love the cuisine began so I wanted to revisit, and my boyfriend wanted to try it too. It wasn't the same as it was four years ago guys. I was only a little let down.
The food was still tasty but hey, things change with time, right? I still love Thai, don't worry! Afterwards we walked to the Bastille monument and got crepes on the way. By the way, the Dulce De Leche crepe is amazing!!

Day 3
On our last day started off with a visit to The Basilica of the Sacred Heart of Paris, the second most visited monument in Paris.
This took about a 10 minute subway ride to Montmartre.
This church was very large and beautiful with a lot of history to it.
It also had a great view to it!



Sacré-Cœur,
It is a great spot to relax at as it is the highest point in the city with a vast, beautiful view.
Afterwards we headed back into the city and headed to the Eiffel tower for the sunset. Our plan was to go to the second level but that line was very long so we settled for a sunset view below the tower.
Afterwards we took a walk down the seine river as the sun went down looking for a bridge with love locks… just to find out that they no longer exist as of 2015. We were pretty upset.
The rest of the night ended with a fail as we tried to make it back to the tower to see it sparkle as it does every hour for the first five minutes but we got on the wrong bus and ended up heading back to our airbnb. In the end we dressed up and ended up going for a fancy Italian dinner.
Check us out! —>


That night we ended with one of our favorite show Sense 8 and enjoyed our last night as the next day we would head out!


I enjoyed those three days to the fullest. Yes, we could have prepared better but I wouldn't have changed a single thing! I can now say I've been to Paris with my lover/ my favorite person!
I'm already ready for the next trip. My birthday is coming up.. wink wink!


Check out more photos from our trip!!


Want to see what travels are next for me!? Make sure to follow my social media account ( links below) and subscribe to my site via RSS.
Until next time!
xoxo- the curly traveler