2019 Essence Festival Guide!
START WITH ESSENCE
We have to acknowledge the very full schedule Essence has up alone. They have a lot of things happening during the day at the convention center.
Everything from empowerment sessions, workouts, movie screenings. While you are there you can check out all of your favorite brands and hopefully score freebies . Click here to see the whole schedule.
What else is there to do?
Keep reading!
I got you!
There are pop up's happening all over, yoga class specials, private parties and more! Go ahead open your calendar and lets start planning your weekend!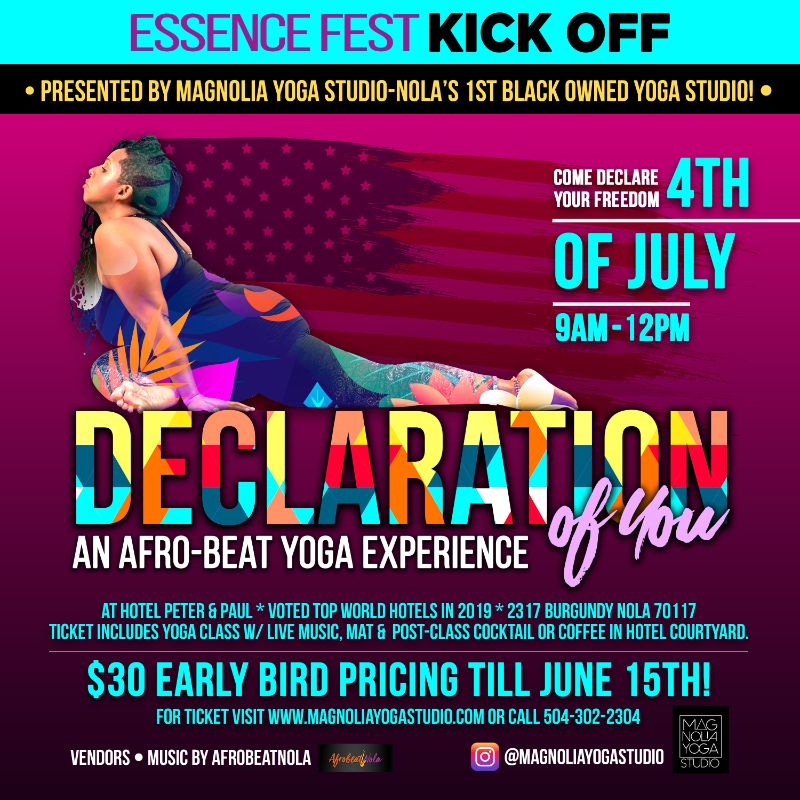 Thursday, July 4th 2019, From 9am-12pm
Declaration of You: An Afro-Beat Yoga Experience
Take part in an Afro Beat Yoga Experience with music by
AFROBEAT NOLA-- Nola's #1 Afrobeat DJ & Hypeman
along with Ajax, owner of Magnolia Yoga Studio.

Ajax will be teaching an ALL LEVELS dynamic-kick off yoga class, getting our MIND+BODY+SOUL ready to receive, engage & ENJOY this historic 25th Anniversary of ESSENCE FEST!
I can tell you from my own experience that THE CLASSES ARE AMAZING.
$30 *early bird pricing
$40 at the door!
Thursday, July 4th 2019, From 2-5 PM
A spirited FREE event which includes a conversation about Hair & Health led by two of the best in the game Lulu Pierre owner of Boho Locs in town from London & Ajax owner of Magnolia Yoga Studio.

They will have demos, sales, champagne, music and YOU!

Come learn about the sexiest protective hairstyles & how they support an active health & wellness lifestyle.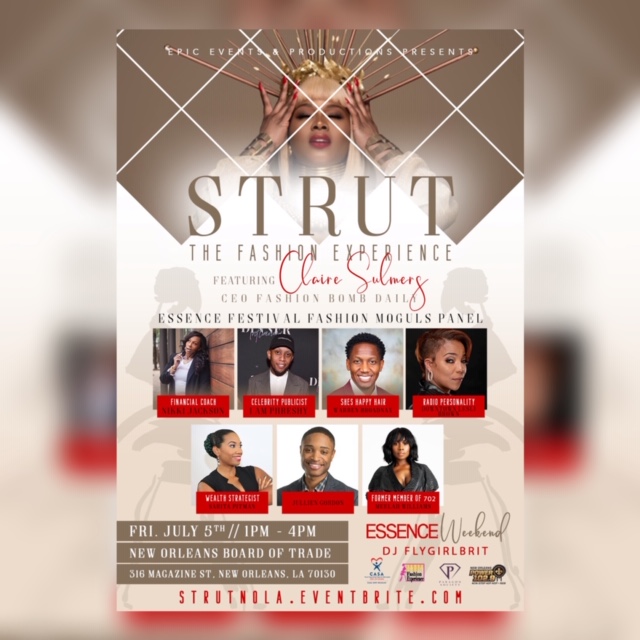 Inaugural STRUT:
Fashion Experience
July 5th, 1pm-4pm
This is the ULTIMATE ESSENCE FESTIVAL Fashion Experience!
Fashion meets fun, food, and business! This event has something to get your whole #BossStyle together! Enjoy a delectable Creole brunch while picking up useful make-up tips during our live make-up demonstrations from ColourU Cosmetics.
Queendom Aesthetics Essence Beauty Bar
July 5th-7th, 11am-7pm
This event is hosted by Queendom Aesthetics a black owned local spa and a go to spot to get help with achieving amazing skin! There will be a variety of companies present that you must visit! You can find companies like The Love Of People, a local hair care line that works wonders for curly hair! W.H.A.T cosmetics will also be there, it is a local cosmetics line that you should definitely check out! Come support the local brands and step your beauty game up!
This event is free to attend!
Shea Moisture House Of Hair Pop-Up
July 5th-7th
SheaMoisture presents House of Hair
A Beautiful Bespoke Experience
An intimate and meaningful conversation series featuring inspiring influential leaders where all ideas and issues impacting our communities are on the kitchen table. From hair stories to heritage, social justice to culture, identity to beauty, to local and global politics - if it's on the minds of Black women we'll take it head on.
JOIN for Music, Art, Conversations w/ Michaela angela Davis, and a hands-on Shea Moisture experience.
The Beauty Collective's Sip & Shop
July 5 th 1:30 pm-6:00 pm
The Beauty Collective brings you a curated, unique destination pop-up shop experience. Meet female beauty bosses Rachel Roff with Urban Skin Rx, Melissa Butler with The Lip Bar, Ylorie Taylor of EDEN Body Works, Monique Rodriguez of Mielle Organics, and the Founders of Cee Cee's Closet for their product tips and tricks during the event.
This will also be a once in a lifetime opportunity to get your hands on pre-sale items that will make their debut during Essence weekend. Enjoy light bites as you shop exclusive discounts along with digital activations, photo opps, beauty consultations, product samples and more!
July 5th & 6th , 12-5pm
Come and enjoy 2 full days of pampering with some of your favorite beauty brands. Enjoy sweet NOLA treats with special guest Bobby Brown and lite bites featuring @bobbybrownfoods.
The event will take place on July 5th & 6th at Manning's on the Top Floor & Balcony from 12pm-5pm
July 5th- 6th from 3-5 pm
Come show off your artistic side while you paint portraits of three male models! Complete with A DJ and Cash Bar! All supplies included. This is guaranteed to be a night you won't forget! Friday July 5th and Saturday July 6th! 3:00pm-5:00pm tickets on sale now. Bday parties, bachelorette parties and large groups are welcomed. This is event is open to ALL 21&Up
Camille Rose Beauty Kitchen
Anticipate power packed panels featuring Supa Cent, Monyetta Shaw + many more! Groove to performances from acts such as Cupid's Shuffle + June's Diary. Enjoy complimentary cocktails, hair appointments, yoga + twerk classes, and relaxing spa services.
Learn more about this event at https://www.camillerose.live/
July 6th at 11am-5pm
The attendees will engage in panel discussions on Women's Sexual Health featuring Dr. A and Dr. Myla beginning at 1:00pm on July 6, 2019 as well as Plastic Surgery: The Obsession featuring Samia Gore "Bella Barbie Official" and Dr. Myla starting at 3:00pm on July 6, 2019. There will be complimentary hors d'oeuvres and drinks along with DJ Chinua playing the latest hits.
July 6th-7th 10a-6pm
These curated experience rooms take attendees along a journey to relive positive memories and reminisce on beloved places from the past, giving them a reason to celebrate where they are now over the course of 2 days.
Talk Blerdy to Me: Geeked Out Comedy
July 6th , 6pm-8pm
CALLING ALL GEEKS, FREAKS AND ALL-AROUND NERDS OF COLOR . BGG has curated an extra special lineup of black women who nerd hard and joke even harder so come through if you dig movie references, sci-fi, comic books, anime and anything in between!
Come Geek out with some of the funniest Blerds in the Universe!
New Orleans Natural Hair Expo
July 6th - 7th If your a naturalista or want to be, this is a nice event for you to attend. You will have a chance to check out some of your favorite brands, mix and mingle with other naturalistas, attend workshops, shop, or just have some drinks and dance! There is also an option to attend their close out brunch the next morning! Tickets start at $20.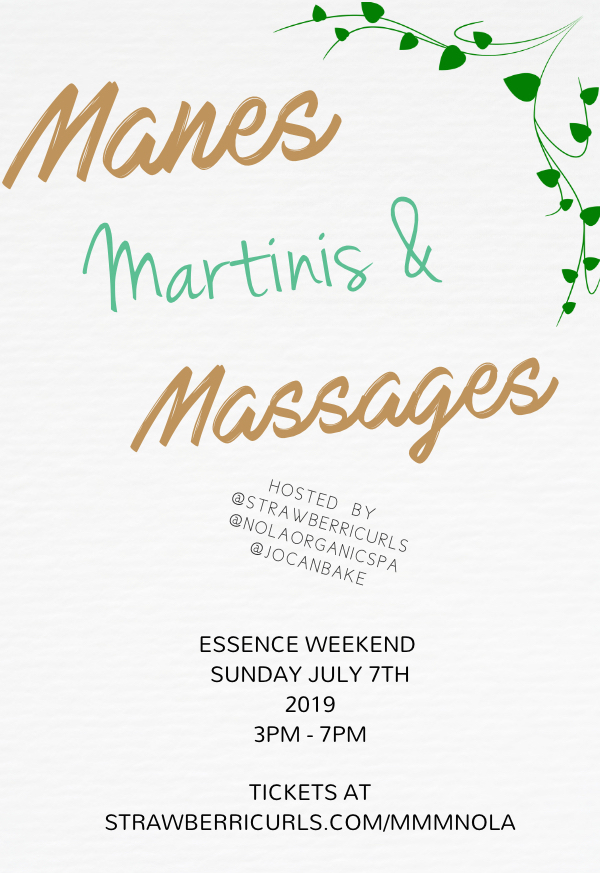 Manes, Martinis and Massages
July 7th , 3:00-7:00 pm
Manes, Martinis and Massages is a social gathering for woman of all walks of life to mix and mingle during Essence Festival!
Mix & Mingle with us one of New Orleans hottest locations, enjoy the legendary sounds, mimosas and cocktails, massages, food, healthy hair tips, swag bags, giveaways & more...
- "A Natural Hair Styling Demo" - Natural Hair Stylist @Strawberricurls will be discussing tips and how to's on taking care of your hair, reducing frizz during styling, and answering your hair care questions
- "How To Relax Your Man"– Massage Therapy Expert and Owner of Nola Therapy Room (@NOLATherapyRoom), Tedra, will give a live demo with volunteers from the audience, to give tips, tricks, and techniques that will have your guy relaxed and ready to reciprocate in no time.
- Cupcakes and Cocktails by @Jocanbake
The Ultimate Beauty & Fashion Experience Pop-Up Shop
Join for an exclusive 3-day beauty and fashion pop-up shop during one of the busiest weekends of the year! The Ultimate Beauty & Fashion experience is hosting over 30+ unique beauty, fashion, and lifestyle brands visiting from around the country.
Click photo for more info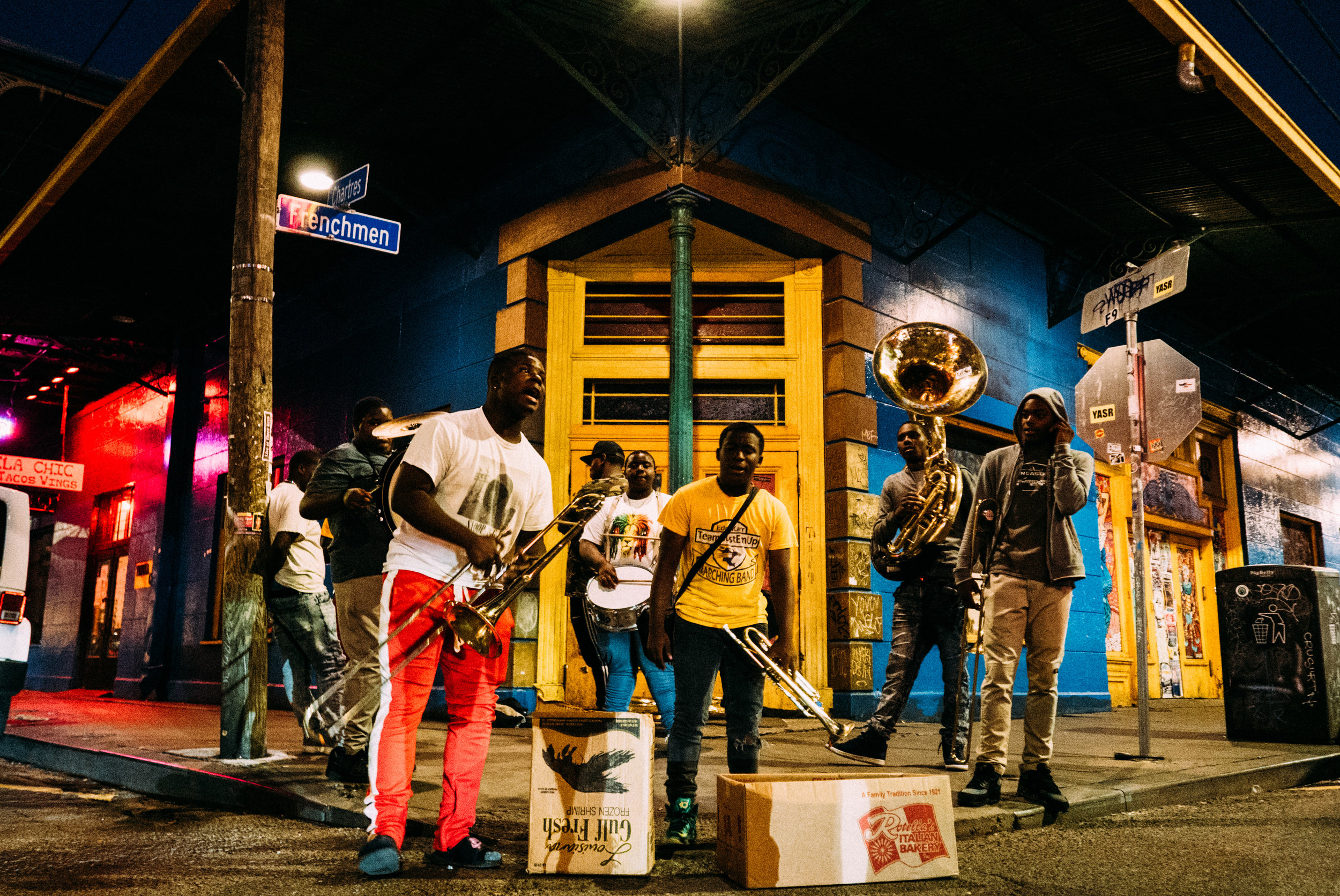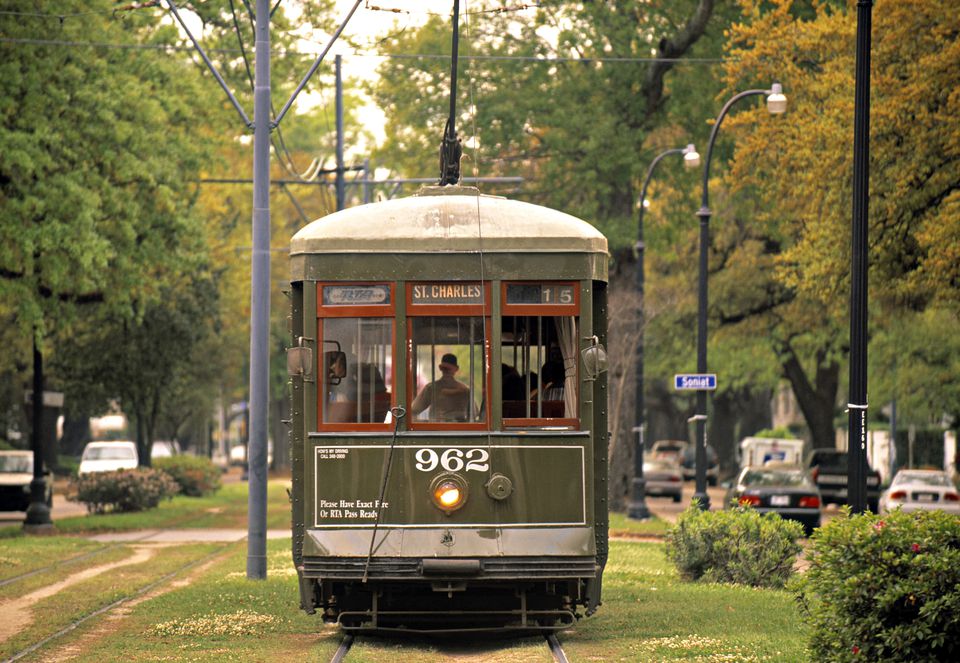 QUICK ADVICE TO SEEING
NEW ORLEANS
Go to Cafe Du Monde to get messy with some beignets and powdered sugar. Try some boiled seafood.. and i'm talking crawfish and crabs, Deanies seafood is in the french quarters if you want to try it there.
Take a ride in the street car down St. Charles avenue through the CBD and the Garden District. You can even empty your wallet and shop at local businesses on Magazine Street! There are so many things to do there is no excuse to be in your hotel..unless your sleeping!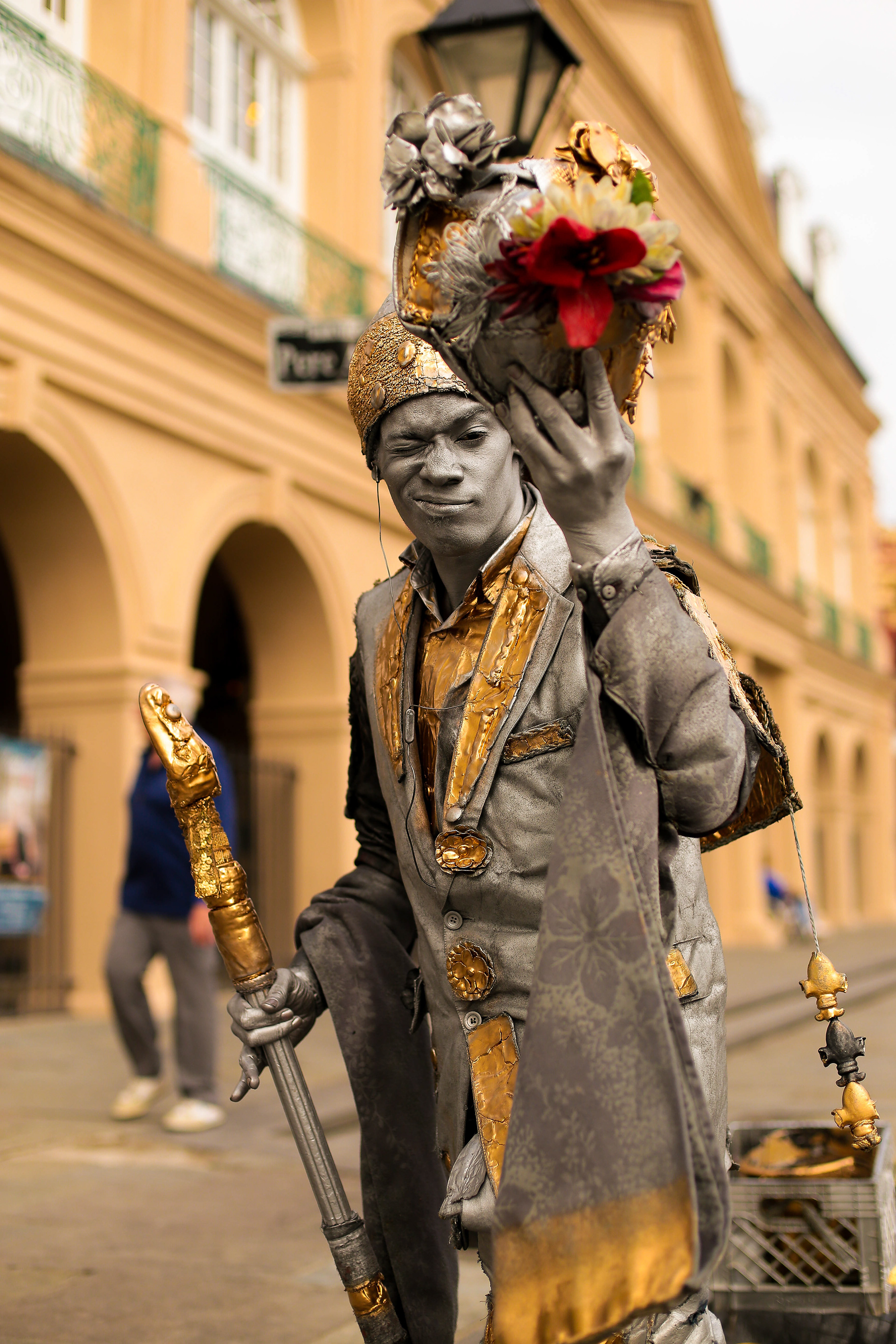 Check back as more events will be uploaded as Essence Festival weekend approaches!